At North Church we believe the next generation, our children, will be the world changers of tomorrow. Our mission is to teach them the love of Christ in creative, hands on, and out of the box ways. They will learn who Jesus is to them and how he has a wonderful plan for their life. We invite you, our parents, to journey with us on an exciting ride as your children grow in the love of God and begin their journey of faith.
Our children at North Church are taught using age specific curriculum designed to bring parents, children and teachers together in learning. Our curriculum is called "Orange", with monthly themes and weekly activities. Parents have the opportunity to continue the learning at home with online resources, devotionals, questions to ask, and activities that correlate with what your children have learned at church. Click the picture and it will direct you to "Orange". We hope you enjoy a new kind of learning and coming together for our children.
First impressions are important. That's why we use First Look curriculum from Orange to give preschool children a first impression of their loving heavenly Father. The curriculum keeps it simple and fun, repeating one basic truth about God all month long. First Look also helps children understand worship and introduces them to small group time.
The activities tickle all the senses making mastering the concepts a blast. Crazy fun activities to crafts to large group Bible story and worship time to small group Bible time, it's all part of the plan to help a child believe three key things by the time he's five years old:
God made me.

God loves me.

Jesus wants to be my friend forever.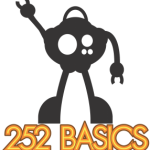 Check out Studio 252 Elementary-age kids are in a constant state of discovery. Think about all the different things they are trying for the first time and what they're learning every day, even how to make (and keep) friends. How can we tap into the way kids are naturally wired to discover' so they can begin to experience for themselves who God is, how He sees them and how much He loves them? How can we show them God's big story and help them discover the active part they can play in this life-long adventure, to be more like Him?
252 BASICS curriculum and resources PROVOKE DISCOVERY, inviting kids to live out their new understanding of how to grow in relationship with God and with others.