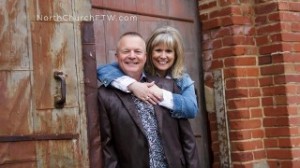 Pastors Donnie and Chennette are ordained ministers through Faith Christian Fellowship and Christian International Outreach Center. They are dynamic communicators using passion and laughter to ignite your spirit.

They have served as staff pastors of some of the largest churches in America including Calvary Church, Irving, Texas and Christian Worship Center, Alexandria, Louisiana giving them a unique perspective on living life together as a church family.
They have two wonderful children Amber and Joshua; a wonderful son-in law Jason and four beautiful grandchildren, Addison, JJ, Seneca, and Jett.
Leadership Team:
Our leadership team recognizes the authority of God, and realizes that we are shepherds who serve under the Chief Shepherd, Jesus Christ. We desire to devote ourselves to prayer and to the ministry of the Word. Our passion and goal is to equip the believers for the work of the ministry until we all attain maturity in the fullness of Christ.

What we believe:
We believe in God the Father, Jesus the Son, and the Holy Spirit.
Matthew 28:19; Luke 3:22
We believe the Bible is the infallible Word of God.
2 Timothy 3:16; 2 Peter 1:20-21
We believe in salvation through Jesus' blood and calling on His name.
Romans 10:9-10, 13; 2 Peter 1:20-21
We believe in water baptism in the name of the Father, the Son, and the Holy Spirit.
Matthew 28:18-19
We believe in the baptism of the Holy Spirit with the evidence of speaking in other tongues.
Acts 8:15-17; Acts 10:44-46; Acts 19:6; Acts 2:4
We believe in divine healing through prayer and the laying on of hands.
Mark 16:17-18; James 5:14-15; 1 Peter 2:24
We believe in praise and worship as taught in the scriptures.
Psalm 100, 150; Ephesians 5:19
We believe in the rapture of the Church and the second coming of Jesus.
I Corinthians 15:52-57, Acts 1:11
We believe Jesus is the Head of the Church and has delegated His authority to His body to carry out the Great Commission and to live a holy life.
Matthew 28:18-19; John 21-15-17; Romans 12:1-2